Sound Bath
Sound Healing Therapists Keith and Venus will be using the vibrations of Himalayan Singing Bowls placed on your body to gently retune and rebalance its natural frequencies.
The benefits of sound healing is indescribably profound and bring significant positive transformation. It reduces psychosomatic disorders like chronic stress, anxiety & insomnia which are induced by imbalances between mind and body. It also promotes healing, lowers blood pressure and eases physical pain like backaches and sore muscles.
Sound healing has been used for centuries by Tibetan monks and the Aboriginal people in Australia. The sound places the body in a relaxed and meditative state, and participants say they feel refreshed and invigorated the next morning.
Limited slots available - If you would like to experience this unique session, Whatsapp us @ 91263420 to make a reservation.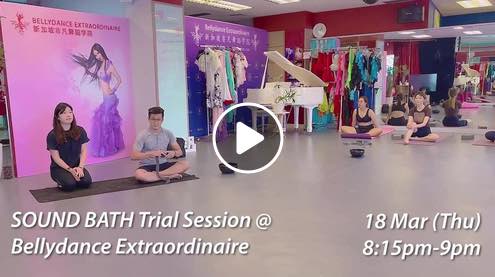 Bellydance Extraordinaire

390 Victoria Street, 03-35/36 Golden Landmark, Singapore, 188061

+65 9126 3420 (Eng) / +65 8333 1583 (中文)

+65 6533 1392

SG91263420