Extraordinary Goddess
The Extraordinary Goddess Pageant
Bellydance Extraordinaire unveils the "Extraordinary Goddess" crown, a pageant to inspire women in our diverse and multi-cultural society to build personal achievements, promote feminine beauty and be part of a community that contribute meaningfully to our society while exemplifying the core values of sincerity, kindness and wisdom.

The pageant is open to women from around the world. Contestants must be of age 18 and above. There are 2 contesting groups:

Extraordinary Goddesses Group: Open to contestants of age between 35 and above (no limit).

Extraordinary Angels Group: Open to contestants of age between 18 and 35.
Facebook: https://www.facebook.com/ExtraordinaryGoddess/
Our Vision
Our vision is to inspire personal achievements, create cultural awareness, encourage feminine beauty while exemplifying core values of sincerity, kindness and wisdom by giving back to the society through charity activities.
Challenge your Boundaries
Through the Extraordinary Goddess Pageant, we aim to provide a personal development platform for contestants to grow, cultivate their talents and realize their potential.

The Pageant is open to all women regardless of age, height, marital status, race and nationality. We believe in embracing differences among women so as to achieve fostering an environment where women share and support one another
Fair & Transparent
The 2023 Extraordinary Pageant had the honor of Dato' Seri Toh Soon Huat JP, BBM(L), PVPA, as one of its main judges. He is a well-respected philanthropist, widely known for his charity works and is a symbol of truth, kindness and love.
Highlights from the 2023 Extraordinary Goddess Pageant, held on 19 May 2023: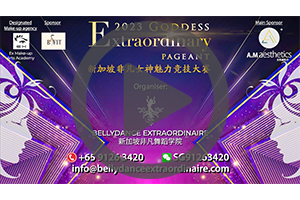 Talent Show Highlights: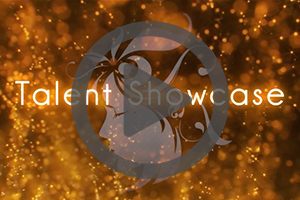 Fashion Show Highlights:
The 2023 Extraordinary Goddess Pageant FULL SHOW (held on 19 May 2023):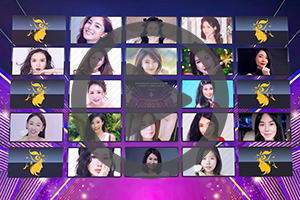 Pageant Winners:
Grace Lim, Champion Goddess Category & Most Talented Goddess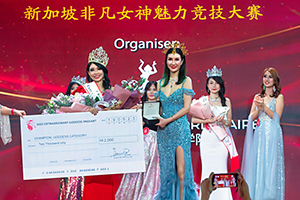 Romi Mittag, 1st Runner-up, Goddess Category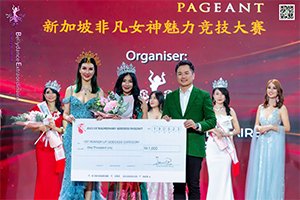 Royis Pang, 2nd Runner-up, Goddess Category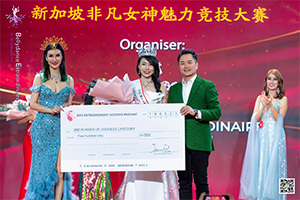 Christina Li, Most Beautiful and Best Styling Goddess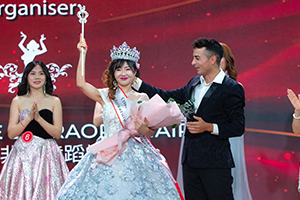 Michelle Lim, 爱心奖 Goddess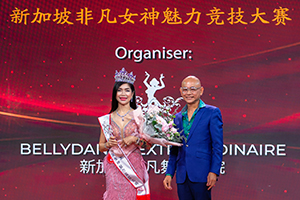 Jesseca Long, Champion, Angel Category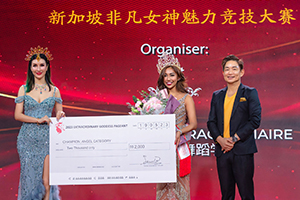 Keisha Sarah Wee, 1st Runner-up, Angel Category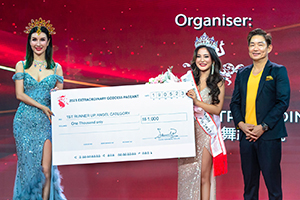 SiS Sijun Li, 2nd Runner-up, Angel Category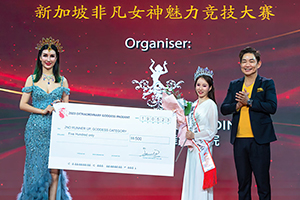 Angela Chen, Most Beautiful & Best Styling Angel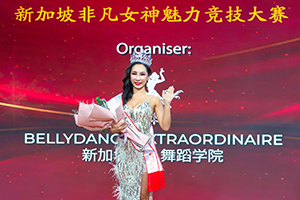 Rosita Wang, Most Talented Angel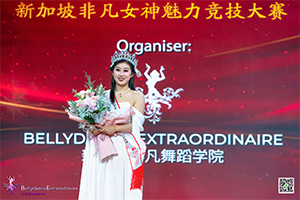 Judges: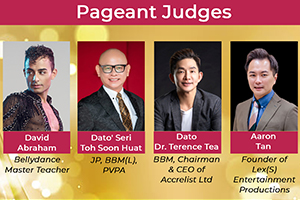 Mr. David Abraham, International Bellydance Superstar and Master Teacher
Data'Seri Toh Soon Huat, JP, BBM(L), PVPA
Dato Dr. Terence Tea, BBM, Chairman & CEO of Accrelist Ltd
Mr. Aaron Tan, Founder of Lex(S) Entertainment Productions
Main Sponsor: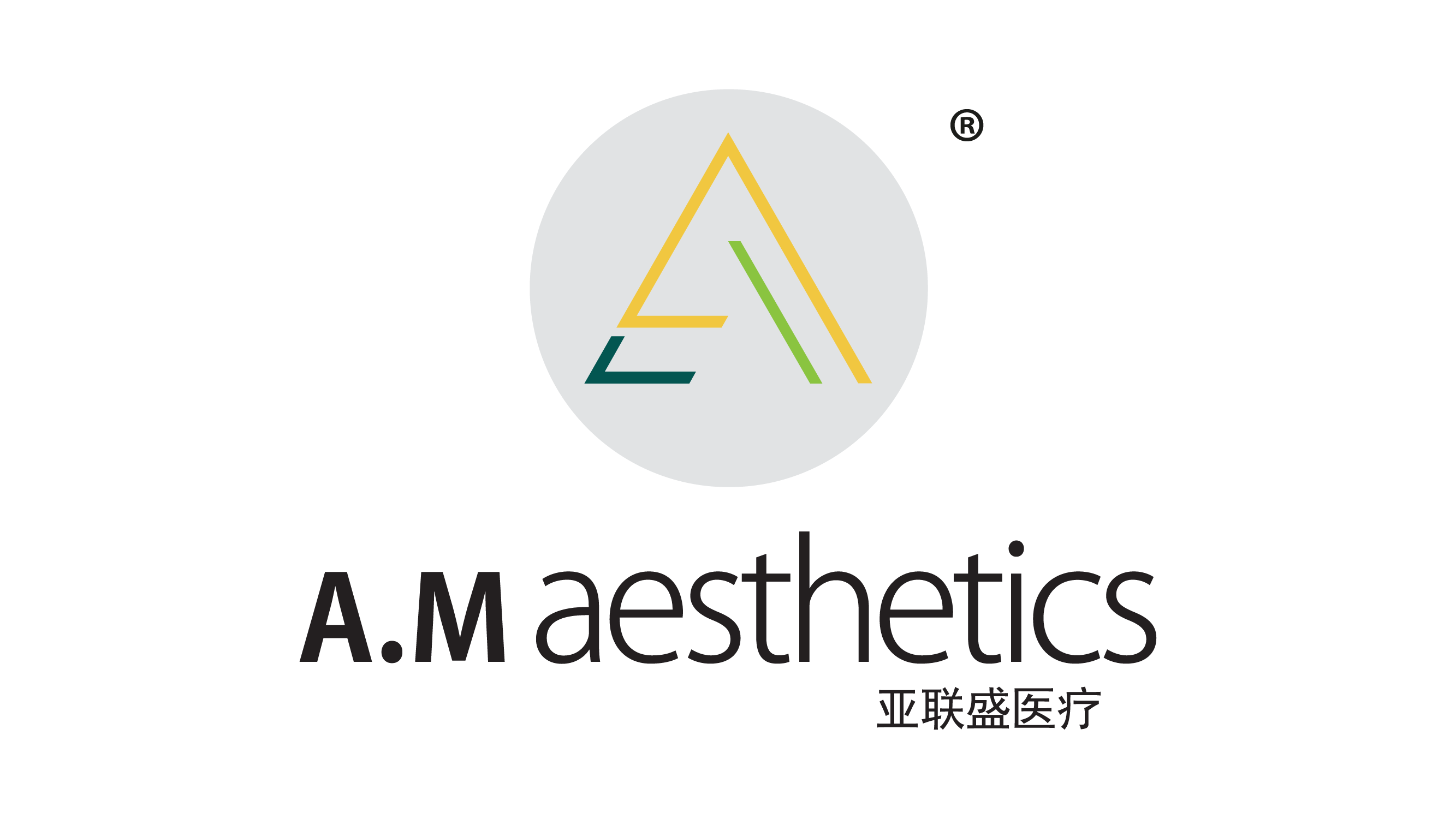 Sponsor: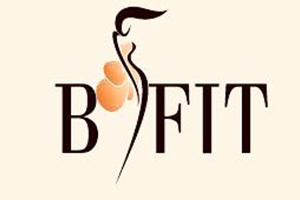 BSFIT 易缇秀
Designated Make-up and Styling Agency: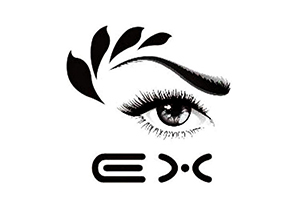 EX Makeup Arts Academy
Media coverage about the Extraordinary Goddess Pageant:
SG Headlines (狮城头条) on 05 Apr 2023:
SG Headlines (狮城头条) on 22 Apr 2023:
SG Headlines (狮城头条) on 10 May 2023:
https://mp.weixin.qq.com/s/oUVrvkgtAdP2Z_k7OYfJQA
Shin Min Daily News (新明日报)on 20 May 2023: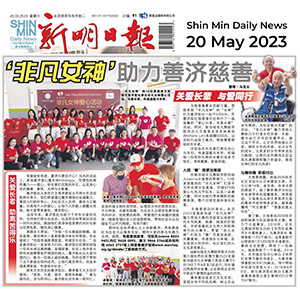 Shin Min Daily News (新明日报)on 22 May 2023: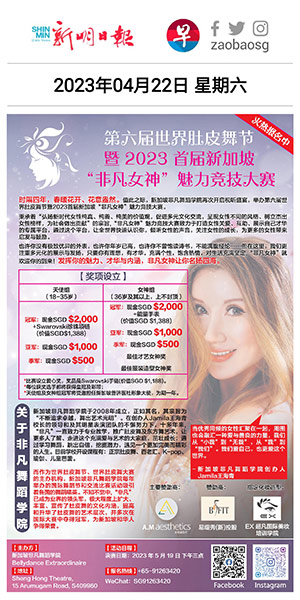 Show on China's largest video streaming platform, 网易, on 07 Jun 2023: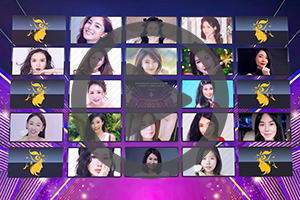 Shin Min Daily News (新明日报)on 10 Jun 2023: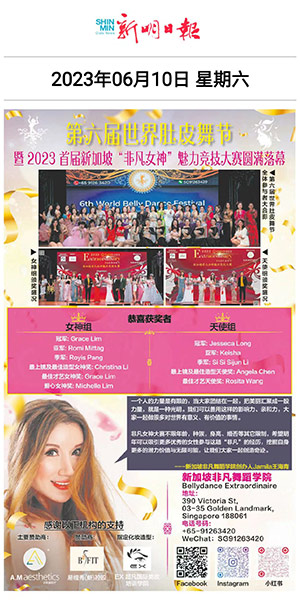 SG Headlines (狮城头条) on 14 Jun 2023:
For all Pageant matters, contact us @ +65 9126 3420 (WhatsApp), SG91263420 (WeChat) or email to us into@bellydanceextraordinaire.com
Bellydance Extraordinaire

390 Victoria Street, 03-35/36 Golden Landmark, Singapore, 188061

+65 9126 3420 (Eng) / +65 8333 1583 (中文)

SG91263420